Author: Rotimi Victor
   I believe fans across the globe saw my posts on "Road to Munich", "Road to Amsterdam" and "The Chelsea Fc European cup final history". Now, this post is about our journey to Baku Olympic stadium at Azerbaijan, was the journey smooth? Was it rough?. The answer to this question depends on the readers point of view as many believed Chelsea won the trophy easily while a good number of others believe the journey was tough and rough. Either smooth or rough, I believe after reading this piece we will know that.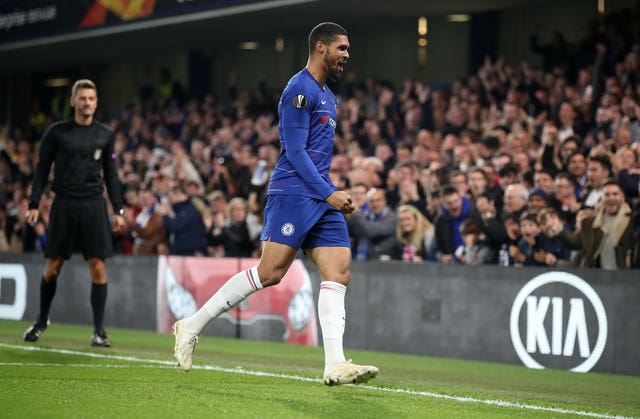 Chelsea failed to finish in a top four spot in the 2017/2018 season as they finished 5th which granted them tickets into the Europa league group stage together with fellow Londoners Arsenal in the 2018/2019 season. Antonio Conte was sacked that season despite winning the Fa cup for Chelsea. In the 2018/2019 season, Maurizio Sarri was appointed as Chelsea's head coach and for him to keep his Chelsea's job he was given a target of finishing top four or winning Europa league so as to see Chelsea bounce back to the Champions league competition.
Chelsea found themselves in a group which many believed to be an easy group though it wasn't as easy as it seems. Chelsea were to face Paok Thessaloniki of Greece, Hungarian club Fehérvár(Mol Vidi) and the Belarusian football team from the city of Barysaw called Bate Borisov. Qualifying to the knockouts is also similar to that of UCL competition as the first two on the table are picked.
Group stage
Match week one
Paok vs Chelsea: 3 points
Chelsea's first match of the 2018/2019 season Europa league campaign happens to be against Greek club Paok Fc. Chelsea won the game narrowly having broken the deadlock since the 7th minute by the night's Captain Willian. However, since Chelsea's Captain for the night scored, both teams failed to find the back of the net till the game ended.
Match week two
Chelsea vs Mol Vidi: 3 points
Mol Vidi came to Stamford bridge with the motive of frustrating the blues into having an unexpected draw. That was evident during the game in which Vidi decided to sit back in a bid to have a 0-0 result. However, as the game proceeded, Fabregas delivered a nice pass to Willian who in turn flicked the pass to Morata with his head, Morata utilised the chance well as the goalkeeper couldn't stop the ball from entering the net. That goal proved to be a decisive goal as Chelsea failed to scored any other goal till the game ended.
Match week three
Chelsea vs Bate Borisov: 3 points
After Chelsea failed to score more than once in their previous two games against Paok and Vidi, the blues scored more than once for the first time against Belarusian club Borisov as Loftus Cheek scored 3 past them. However, Borisov managed to score a consolation goal which means Chelsea conceded for the first time in the competition.
Match week four
Bate Borisov vs Chelsea: 3 points
Like UCL, the team you play against in your match week three is also the team you play against in your match week four. Chelsea headed to Belarus to face Bate. However, Chelsea couldn't score three past them again as it was their home ground and they have adapted to the climatic conditions and the field of play. Despite that, Chelsea won the game with a solo goal which came from a Emerson Palmieri's cross which Olivier Giroud connected to.
Match week five
Chelsea vs Paok : 3 points
Chelsea bounced back from a 3-1 dearest to Tottenham at the EPL by thrashing Paok 4 goals to nil. Giroud scored a brace having executed a volkey from a Cesc Fabregas pass for his second goal of the night. Hudson Odoi also scored his first goal in the blue shirt against Paok and also assisted Morata's goal by delivering a cross which Morata's head didn't miss.
Final match week
Mol Vidi vs Chelsea: 1 points
Vidi were once again stubborn as they prevented Chelsea from having a perfect group stage. The game ended in a 2-2 draw, thanks to goals from Willian and Giroud from the Free kick spot. Chelsea finished first and qualified to the round of 32 which is to be played against Swedish team Malmö FF.
In the group stage, Chelsea scored 12 times and conceded 3 goals in 6 matches.
ROUND OF 32: 1ST LEG
Malmö vs Chelsea
Chelsea scored 2 past Malmö, thanks to goals from Barkley and Giroud. Barkley received a cross from Pedro and controlled well before hitting it past the Swedish team's goalkeeper while Giroud scored by performing a fantastic flick after receiving Willian's cross. The game ended 2-1 in Chelsea's favour but Malmö still have a tender chance to qualify to the next round
2ND LEG
Chelsea vs Malmö
The game at Stamford bridge is something that Malmö didn't see coming as the blues thrashed them with goals from Giroud, Barkley and Odoi with Barkley netting from the Free kick spot. Aggregate Chelsea 5 vs Malmö 1

ROUND OF 16: 1ST LEG
Chelsea vs Dynamo Kiev
After qualifying, Chelsea were to face Kiev in order to decide who will qualify to the Quarter Finals. Willian scored from the free kick spot after Pedro broke the Deadlock, Odoi finished it up to make it 3 goals to nil at the bridge.
2ND LEG
Dynamo Kiev vs Chelsea
The come back game against Kiev was stunning as Chelsea mauled Kiev by scoring 5 unreplied goals with Olivier Giroud netting a perfect hat trick and Alonso and Odoi made it 5 altogether. Aggregate 8-0

QUARTER FINAL: 1ST LEG

Slavia Prague vs Chelsea
Prague proved to be stubborn as they made life difficult for the blues. The blues however were able to deal with that as Chelsea broke the deadlock when Willian delivered an in-swinging cross which Alonso connected to perfectly well.

2ND LEG

Chelsea vs Slavia Prague

This game started out well for the blues when Pedro broke the deadlock with the time not even up to 5 minutes, but this soon stopped as Prague started scoring and managed to bring the scoreline to 4-3 from a 4-1 lead in favour of the blues. This match led to criticism from Fans and Pundits alike. They blamed the Chelsea's defense but there is more to it. This Slavia Prague eliminates Sevilla at he round of 16 before meeting Chelsea. This same Slavia held Barcelona down to 0-0 draw at the Nou Camp in the 2019/2020 Uefa Champions league competition. Aggregate 5-3 in favour of Chelsea
SEMI FINAL: 1ST LEG

Frankfurt vs Chelsea
  Into the semis, Chelsea were to face German club Eintracht Frankfurt. Frankfurt played well and defended well as they good Chelsea to their second draw of the competition. The game ended 1-1 after Pedro intervened and equalised after the blues were 1 goal down.
2ND LEG
The return leg seems a confident one for Chelsea after they have defeated Watford in the EPL which grants them a place in next season's UCL competition group stage despite having one more game to play against Leicester. This is due to inability of top four contenders Arsenal and Manchester United to grab all 3 points against the side they played against. This got Chelsea players more confidence as they no longer have the necessity of winning the Europa league before participating in the UCL competition. Loftus Cheek scored but Luka Jovic equalised. David Luiz made an Ashley Cole-like save as he stops the ball from getting into the net. Zappa Costa also nodded out what could been a fantastic goal.
INTO THE PENALTIES
Both team failed to score a match winning goal during the extra time which means the Victor will be decided on the spot.
Azpilicueta missed his kick but Kepa came to Chelsea's rescue by saving two penalties, one of which he stopped with his knees. Hazard played the final kick which sent Chelsea to Baku. Kepa was awarded the man of the match for his match winning performance for Chelsea.

WELCOME TO BAKU OLYMPIC STADIUM
Chelsea are to face local city rivals Arsenal which was never in record since the competition started. Two teams from the same city have never reached the finals, Chelsea and Arsenal however managed to break to record. The game started underway but both teams couldn't score until Giroud netted with a header by connecting to Emerson Palmieri's cross in the second half. Chelsea took of the pressure by scoring another, thanks to brilliant combo between Hazard and Pedro. Ainsley Maitland Niles lost his cool in the box 18 by tripping Giroud to the ground which led to Hazard converting from the spot. However, Iwobi brought back little confidence when he executed a powerful half volley in the 69th minute. Chelsea responded immediately after just 3 minutes when a Arsenal player was dispossessed in a dangerous position which led to 1-2 touches between Giroud and Hazard that led to the final goal. The game ended in a 4-1 victory in favour of Chelsea and once again, Chelsea were crowned the Europa league champion.
Editor's Pick
Throughout the competition, Chelsea were not defeated which means they were invincible.
Chelsea scored a total of 36 goals in a total of 15 matches including the final. Chelsea conceded 10 goals in those 15 matches which included the Final.
Chelsea's Willian won the joint player with the highest amount of assist after he had 7 assists in the competition.(Joint in the sense that one other Borisov player had 7 assists too, his name Ihar Stasevich)
Chelsea's Giroud won the golden boots after he scored 11 goals in the competition.
Then Chelsea's player Eden Hazard won the best player of the tournament beating second and third place winners Giroud and Jovic to the award. So many fans however believed that the title belonged to Giroud. That award earned Hazard a place in the UEFA team of the season.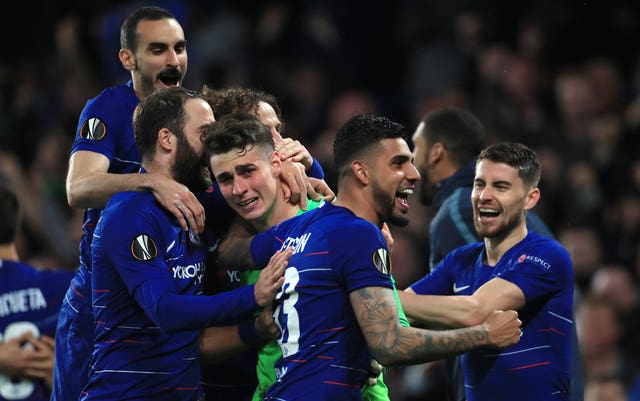 8 Chelsea players were nominated for the Europa league squad of the season: Kepa Arrizabalaga Revuelta, Pedro Eliezer Rodríguez Ledesma, Jorge Luis Frello Filho, Ngolo Kante, Eden Michael Hazard, Olivier Jonathan Giroud, David Luiz Marinho morreira, Cesar Tanco Azpilicueta.
All this for you fans